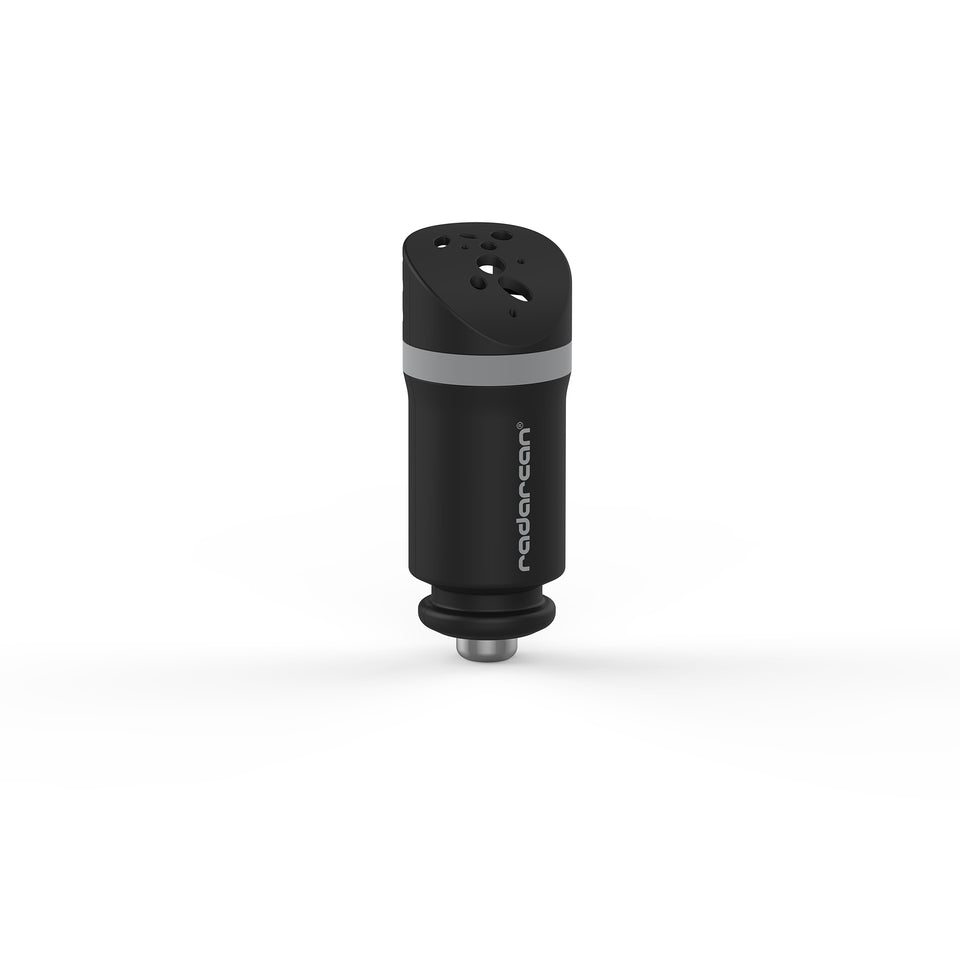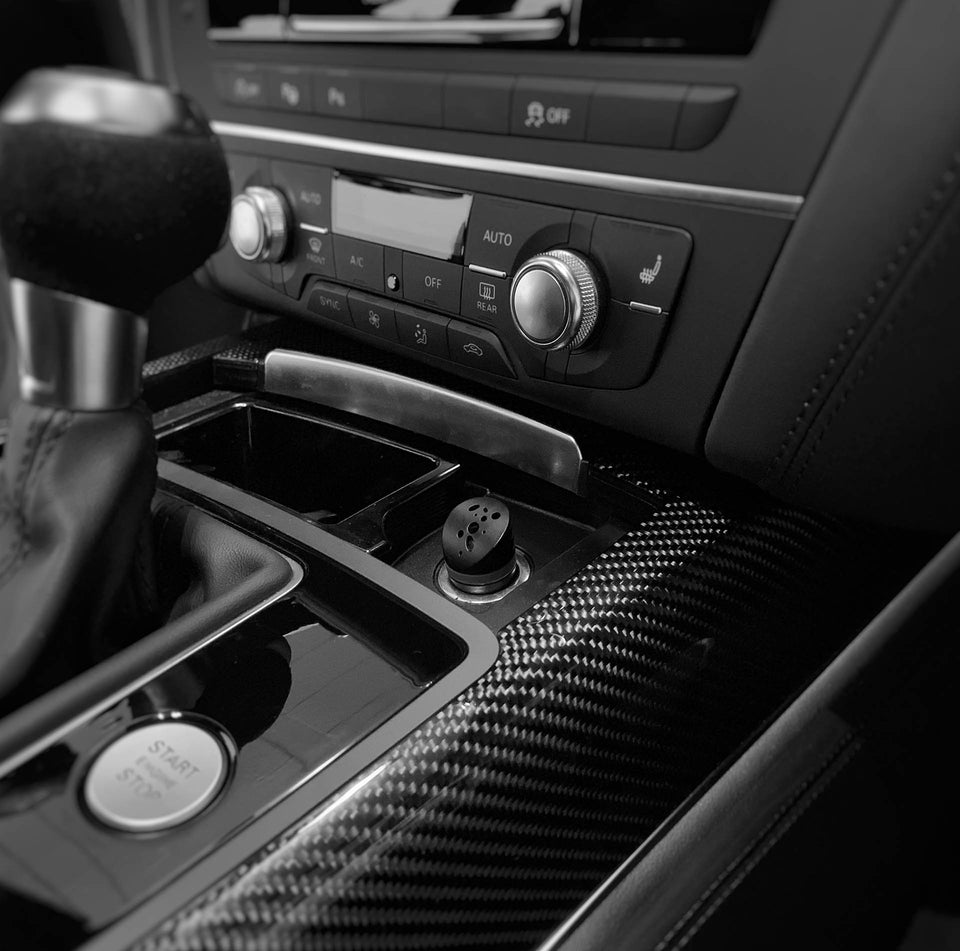 CAR AIR PURIFIER R-501
R-501AMZN (EU)
Have you ever stopped to think about the air you breathe inside your car?. Perhaps you did not know, but it is full of harmful substances for your body, In this space there is a lot of air pollution, bad odors, smoke and combustion gases concentrated. To reduce this effect, the CAR AIR PURIFIER imitates the effect of nature creating a fresh, clean and cozy atmosphere, healthy for our body. It also is ideal for allergic people because it fights against the dust mites and reduce immediately the symptoms.
Its small size becomes the world's most compact.
KILLS BACTERIA, VIRUSES, ALLERGENS, AND REMOVES CIGARETTE SMOKE, PM2.5 LEVEL PARTICLES AND VOLATILE ORGANIC COMPOUNDS (VOCs).
IDEAL FOR DUST ALLERGIC PEOPLE. GET AN IMMEDIATE REDUCTION OF THE SYMPTOMS.
OZONE RELEASE ≤0.05 PPM AND THE HIGHER IONS RELEASE: 2.000.000 ions/cm3.
ZERO CHEMICAL PRODUCTS. ODORLESS. 100% ELECTRONIC AND SAFE.
NO REFILLS. SAVES YOUR MONEY!!!
EQUIPPED WITH LED LIGHT
HIGH EFFECTIVENESS PROVEN IN LABORATORIES.
IN COMPLIANCE WITH THE OSHA AND EU DIRECTIVES.
DESIGNED AND MANUFACTURED IN SPAIN.
TECH. SPECIFICATIONS
LEARN MORE
FAQ's
REVIEWS IN MAGAZINES
VIDEOS
INSTRUCTIONS FOR USE (PDF)
MODEL: R-501
TECHNOLOGY: ION.EVO 2.0
INDOOR/OUTDOOR USE: Car, Van, Truck, Caravan, Camper
MAXIMUM COVERAGE:  Inside Car
USAGE:

Car, Van, Truck, Caravan, Camper, RV, Motorhome

POWER SOURCE: 12 V DC (Car Socket)
ION EMISSION: 2.000.000 ions/cm3
OZONE EMISSION:

≤ 

0.05 ppm
DIMENSIONS:

Ø

22 x 56 (mm)
COLOR: Black matte 
HOW DOES IT WORK? -  ION.EVO 2.0 TECHNOLOGY
ION.EVO 2.0 TECH TO PURIFIER THE AIR

CAR

AIR

 PURIFIER uses 

ION.EVO 2.0 technology, designed to counteract the harmful environment found inside the car, with stale air from the smoke of snuff, the smell of pets, the automotive plastics and a lot of odors that are a source of problems such as asthma, fatigue, headaches and burden. Its functioning is based on the issuance of a large amount of anions (negatively charged ions) and a small amount of ozone, balancing the harmful environment and eliminating odors, smoke and bacteria. it works imitating the effect of nature generating a similar atmosphere that the one we feel when we are near a waterfall or after a storm: fresh, clean, healthy and well-being.
It is certified to reduce colonies of bacteria such as Escherichia coli, Staphylococcus aureus, Pseudomonas aeruginosa, avoid sources of infection and favor comfortable and pleasant environments.
ION.EVO 2.0 TECH ALSO TO FIGHT AGAINST THE DUST MITES.

The allergy known as "dust allergy" is caused by the fresh deposition of mites and is the main cause of allergic asthma (inflammation of the bronchi) and allergic rhinitis (inflammation of the nasal mucosa)

Humid environments, in which the existence of positively charged ions (cations) predominates, favor the appearance and development of mites generating "dust allergy". ION.EVO 2.0 releases anions (negatively charged ions), counteract the excess of positive charge and contribute to reduce the relative humidity of the environment. In this way, an unfavorable environment for the development of mites is generated and on the other hand it contributes to the dehydration of the feces, also decreasing the propensity to your allergy.

I

deal for allergic people who will reduce immediately the allergic symptoms and it contributes to improve air quality, increasing the oxygenation of our lungs and decongesting the respiratory system.
_____ 
HOW TO USE IT? CONNECT IT TO THE CAR SOCKET
RADARCAN CAR AIR PURIFIER has been designed to connect it to the 12 V car socket. Once connected, the LED light comes on and it shows that it is running and the quality of the air inside your car will start to improve.
_____ 
BENEFITS OF CHOOSING RADARCAN CAR AIR PURIFIER
Unlike other products, RADARCAN CAR AIR PURIFIER is designed without any chemical or freshener. It does not release odors, but eliminates them, getting to breathe a cleaner and fresh air all the time you spend in the car. It is a 100% safe and harmless solution with a minimalist design, made in EU under strict quality standards, offering the best air treatment for your car.
WHAT IS ION.EVO 2.0 TECHNOLOGY AND HOW DOES THE CAR AIR PURIFIER WORK?
Electrical storms ionize the atmosphere. After the storm, one feels relieved, while the air is fresh, pure and easier to breathe. The small-sized CAR AIR PURIFIER is able to generate the same natural effect inside your car as occurs in nature.
CAN THE ION.EVO 2.0 TECHNOLOGY IN THE CAR AIR PURIFIER AFFECT: BABIES, PREGNANT WOMEN, CHILDREN, ADULTS OR PETS?.
No. The ION.EVO 2.0 technology of the RADARCAN products cause no harm to people or pets.
DOES THE CAR AIR PURIFIER GENERATE ANY KIND OF SMELL?
Due to the generation of a small amount of ozone, a light smell can be perceived.
DOES THE CAR AIR PURIFIER NEED ANY REGULAR MAINTENANCE?
No. it is only necessary to clean the product due to the eventual build up of particules that adhere to it, due to the effect of the ION.EVO 2.0 technology.
WHAT IS THE LIFESPAN OF THE CAR AIR PURIFIER?
Its average lifespan is 1,500 hours, which is equivalent to 2 years working an average of 2 hours a day.
DOES IT NEED REFILLS?
It needs no refills. Which means a big economic saving.
WHERE SHOULD I PLUG IN THE CAR AIR PURIFIER?
In the 12 V power socket in your car.
CAN I PLUG IN MORE THAN ONE CAR AIR PURIFIER?
Some vehicles include a second 12 V socket for the back seats. The use of more than one CAR AIR PURIFIER, if you are carrying a pet there, will strengthen the effect.
WHAT IF THE LED INDICATOR LIGHT IS NOT WORKING?.
Check to see if the CAR AIR PURIFIER comes on if you plug it into another 12 V outlet. If you confirm that it still does not come on, get in contact with the RADARCAN support team.